Welcome to Mr. Water!
Water Softeners and Conditioners in Tampa, New Port Richey, Odessa and the entire Tampa Bay area.
Everyone wants good water in their home. Obtaining that in the Tampa Bay area generally requires some form of home water treatment. Family owned and operated since 1993, Mr. Water sells and services water treatment products of the highest quality and excellent value to homeowners and businesses throughout the Tampa Bay area, including Tampa, St. Petersburg, Clearwater, New Port Richey, Trinity, Wesley Chapel, Odessa and more. We would like to show you options of water softening, water conditioning and drinking water filters and provide you a full understanding of each.
Mike, Kay, Steve, and Scott Crocker welcome you to the Mr. Water website. We are here to help you get the best quality water that you deserve! Call us today!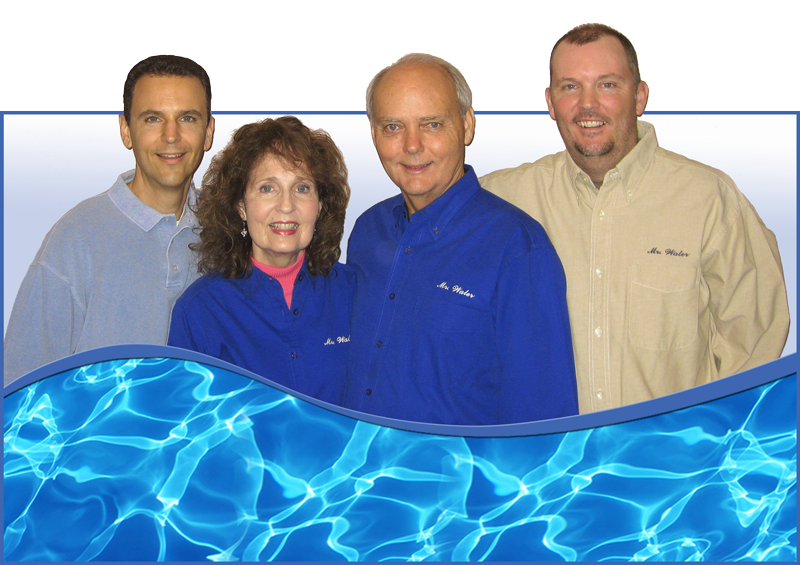 Award-Winning Service You Can Trust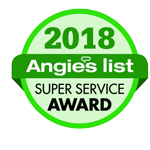 Mr. Water has been awarded the prestigious 2018 Angie's List Super Service Award, an honor bestowed annually on approximately 5 percent of all the businesses rated on the nation's leading provider of consumer reviews on local service companies. We are honored to have won this award almost yearly since 2006. Angie's List Super Service Award winners have met strict eligibility requirements including earning a minimum number of reports, an exemplary rating from their customers and abiding by Angie's List operational guidelines. You can rest assured that you are in good hands with Mr. Water.
Mr. Water also recently received the Super Service Spotlight in Angie's List magazine. The article can be read here.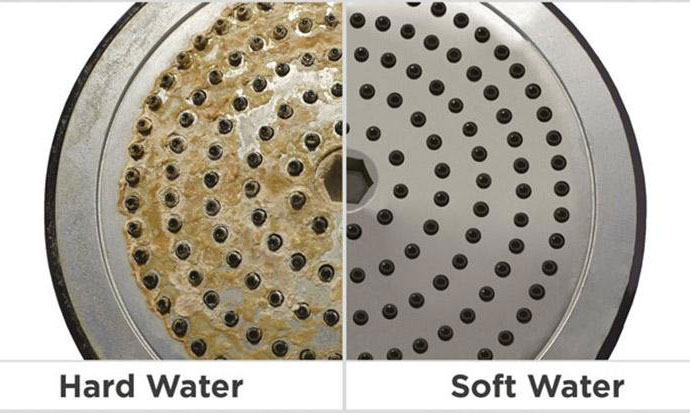 Water Softening and Conditioning
The fact that the Tampa Bay area has very hard water is evident by scale and mineral deposits on everything that the water touches.
Water softening removes the scale throughout the entire house. Water conditioning softens and reduces the chlorine and chloramines in municipal water or eliminates the iron and hydrogen sulfide in well water.
Mr. Water explains how water softening and conditioning works and how much you can benefit from having one. We customize the demand control valve and automatic clock control valve options to your needs. We also show you the location options for your house and install the equipment that you prefer.
Introducing Vortech™ Distribution Systems
Designed with conservation in mind, Watts Vortech™ water softeners and filters feature high performance media, state of the art control valve technology and the new Vortech™ distribution system for greater efficiency.
Vortech video shows the cyclonic backwash that cleans a resin bed more effectively than a standard tank. 
Click here for more information.
Since the implementation of chloramine disinfection by municipal water agencies, reports have surfaced regarding its efficacy and safety. The following article discusses the Potential health effects of chloramines and treatment options for their removal.
read more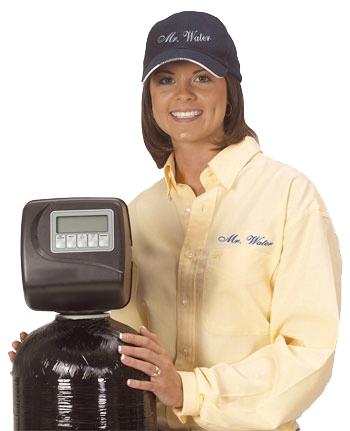 Satisfied Customers
Word of mouth advertising…
…is considered to be the most powerful form of marketing. Mr. Water Company has found that to be true. 80% of our new customers are the result of referrals from our satisfied customers. Here's a sampling of their comments, and you can read more unbiased reviews on Angie's List and Google.
REVIEW 5/5

 

★★★★★
"We had Mr. Water install water our water softener and reverse osmosis systems in 2005. They worked great and came out yearly to change the reverse osmosis system's filter and check the water softener. When our daughter bought a house in 2010 they installed her's. When we bought a house and moved in 2015, we bought another system from them. Their service and products have always been great."
REVIEW 5/5

 

★★★★★
"Family run business with lasting products, amazing service, and great work ethics. I have been with Mr. Water's since 2007 and every year Scott comes to service and maintain the units like clock work. I haven't had any complaints, he educates us and provides supports whenever asked. Highly recommended."
REVIEW 5/5

 

★★★★★
"We have very hard water, and wanted to have a softener installed to prevent further scale buildup on all of our plumbing fixtures. 
Steve came out and explained the system and its options very clearly. The installation was impeccable, and our water quality is much improved."
REVIEW 5/5

 

★★★★★
"Mr Water did an install of the water treatment and conditioning system and reverse osmosis in our house. The reverse osmosis drinking water system is so nice with great tasting water and ice. Scott was very professional from start to finish I would recommend Mr Water with a 5 star rating."
CONTACT US FOR A FREE WATER ANALYSIS AND ESTIMATE TODAY