Dependable Reverse Osmosis Water Purification
Reverse Osmosis purifies water through a membrane one drop at a time.
An alternative to distilled water but better tasting
Capable of producing 50 gallons of purified water per day. 
Storage tank with 3 gallon capacity. 
Removes sodium from your drinking water.
Better tasting coffee, tea and clearer ice cubes.
Greater production and storage capacity models are available.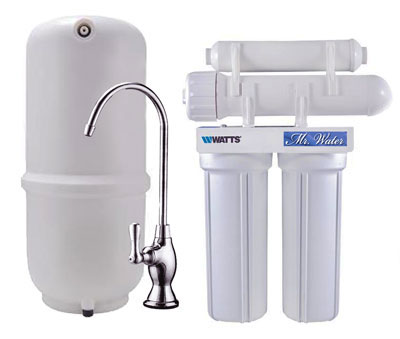 Filteration by EVERPURE provides the following benefits:
Removes dirt and particles of 1/2 micron and larger in size.
Outstanding removal of chlorine, chloramines and other tastes and odors.
Pesticide removal capability.
Removes cysts (giardia and cryptosporidium)and asbestos fibers.
Inhibits common lime scale formation.
NSF certified for lead reduction.
Recommended for use with dedicated faucet or bottleless water cooler. We recommend Everpure MC filter for greater flow rate without dedicated faucet.